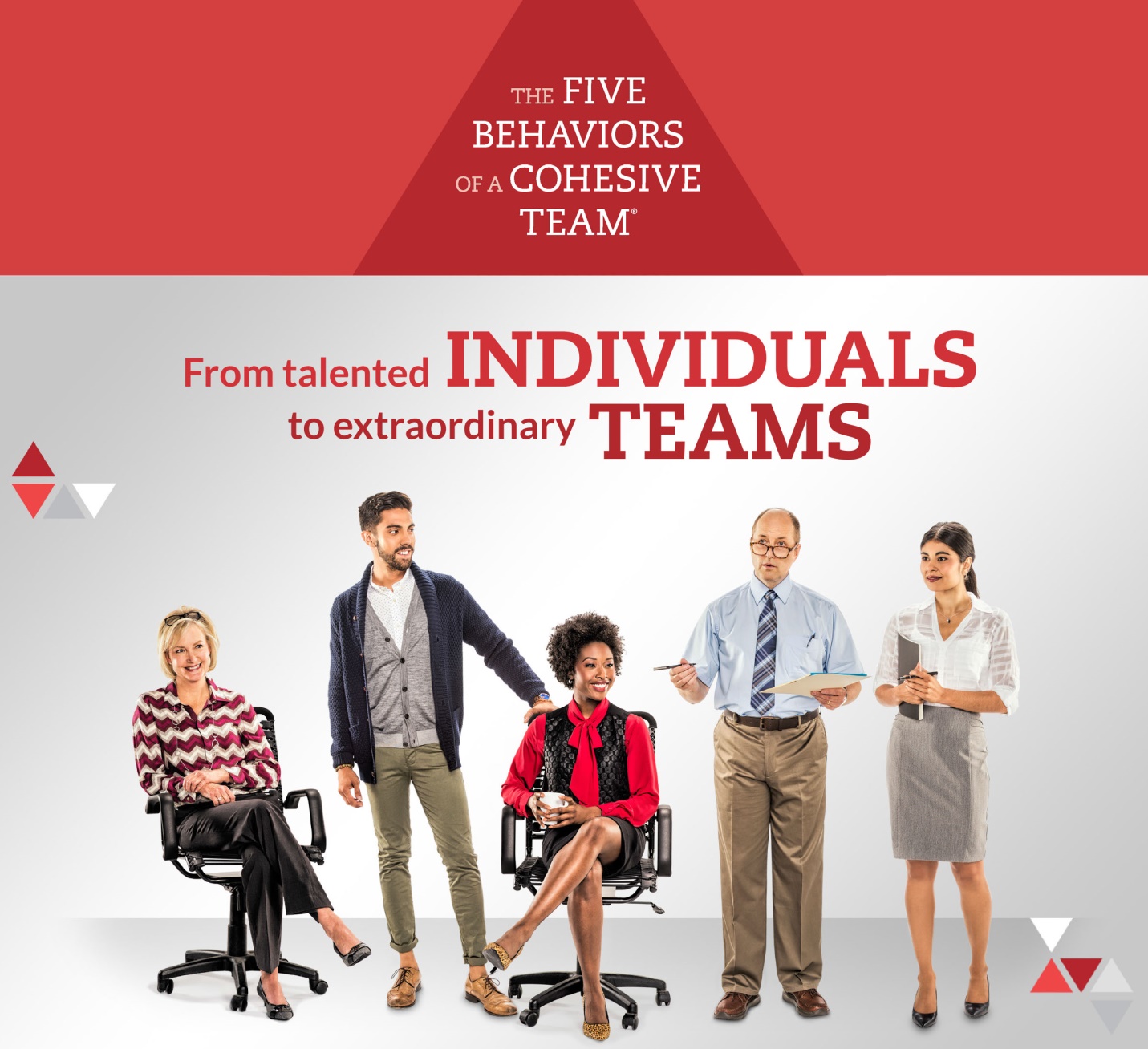 Doing everything right, but your company keeps producing underwhelming results?
Underachievement?
Inconsistent Productivity?
Lack of "Giving a Damn" by Some Staff?
Absence of Accountability?
Could these be symptoms of a dysfunctional team? Schedule a FREE consult to learn more and find out if The Five Behaviors of a Cohesive Team® may help your company transform your team.
The Five Behaviors of a Cohesive Team® is a unique learing experience that prepares individuals for success in teams.The New York Time best-selling author Patrick Lencioni and the power of industry-leading workplace assessment tools come together in a breakthrough program proven to deliver business results.
➢ Over 2.5 million copies sold
Is it right for you? The Five Behaviors of a Cohesive Team® program is for…
Intact or newly formed teams of 3-12 people in companies who desire to be more than a "group of people", but instead a Team of people who want to:
➢ Maximize team productivity
➢ Make better, faster decisions
➢ Tap into the skills and opinions of all members
➢ Avoids wasting time and energy on politics, confusion and destructive conflict
➢ Stop wasting time talking about the wrong issues and revisiting the same topics over and over again because of a lack of buy-in
➢  Create a competitive advantage
➢ Increase team member stick rate and satisfaction because working for your company is rewarding, and values team members' strengths.
➢  Extinguish blame and lack of responsibility and the wheel spinning that comes with lack of trust, lack of commitment and unresolved conflict
➢ Is more fun to be on!
The single most untapped competitive advantage is teamwork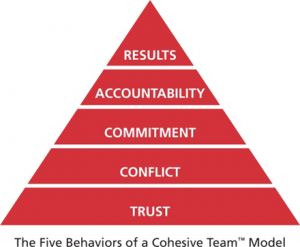 To gain this advantage, teams must…
➢
Trust
one-another
➢
 Engage in
Conflict
around ideas
➢
Commit
to decisions
➢
 Hold one-another
Accountable
➢
 Focus on achieving collective R
esults
➢
 Facilitated, interactive
half-day (Accelerated version) or Full-Day
offsite, team-building workshop at hotel or other offsite location.
➢
 5 modules
➢
Assess your team
to understand how, as a team, you score on the key components of the Five Behaviors model: Trust, Conflict, Commitment, Accountability and Results.
➢
Each individual on the team will also understand their own DiSC
style: D: Dominance, i: Influence, S: Steadiness, and C: Conscientiousness, and how their work style contributes to the team's overall success.
➢
Team Progress Reports and one-on-one Comparison Reports
➢
Participant handouts, take-away cards and activities
➢
We will conclude with creating a
plan of action for moving forward,
to keep the success coming.
➢
Transforming your team through this workshop
can be a great addition to your next strategic planning session,
to prepare your team to really cut through the roadblocks and achieve the success you plan.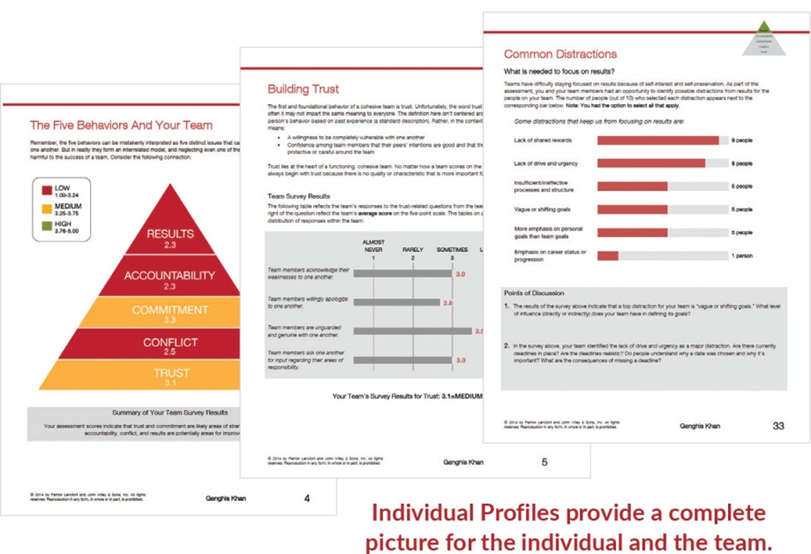 Introduction to The Five Behaviors of a Cohesive Team®
Renée O'Brien, The Five Behaviors of a Cohesive Team® Authorized Partner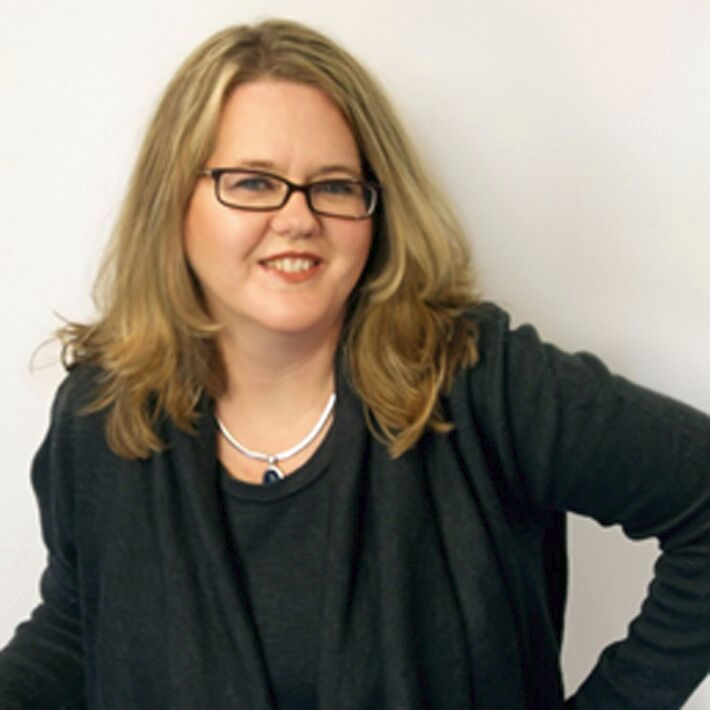 Renée O'Brien is an authorized partner for The Five Behaviors of a Cohesive Team® program. She is a top small business consultant, coach, facilitator, speaker, writer and business owner. Renée brings more than 20+ years of experience working with small business owners and their teams to improve profitability, productivity and competitive edge. Renée is a leadership fanatic, who is committed to helping businesses break down barriers, engage employees, increase trust, commitment, productive conflict resolution, accountability and get results as a unified, powerful team.
In addition to Renée's roll up your sleeves, real world experience, she is a perpetual learner and a collector of state of the art skills, techniques and information. A quick snapshot of her professional education: a degree in Economics and Communications: Consumer Behavior from University of Washington, former consultant at Accenture Consulting, the Five Behaviors of a Cohesive Team® Authorized Partner, numerous evidence based methodologies trained at Harvard Leadership Coaching Strategies, MBTI® Certification (Myers-Briggs personality assessments), certified Everything DiSC® (model of human behavior for personal growth), and EOS® – Entrepreneurial Operating System as an EOS® Implementer. Also, Renée earned the CSPO® certification in Agile, the world's most popular innovation methodology. Renée applies these rapid implementation tactics and swift response to change to help her clients implement twice as much change in half the time.
As your Five Behaviors of a Cohesive Team® facilitator Renée O'Brien will bring, enthusiasm, innovative thinking, a keen ear for listening, creativity, prompt action, and a commitment to your team's success.