EOS® – Entrepreneurial Operating System Implementation
Feeling STUCK?
Business HIT THE CEILING?
EOS®, the Entrepreneurial Operating System® was first described by Gino Wickman in his book Traction. The book outlines 6 key components in every small business and tools, processes and structure to get your whole business on the same page, AND involved in driving it forward.
Thousands of companies have used EOS® to generate powerful results in the areas of …
➢
 Increased revenue
➢
  Faster Growth
➢
  Accelerated Profit
➢
  Business Scalability
➢
  Built a culture of clarity and accountability, where staff have the tools to follow through, and team members own the results of their departments.
➢
  Better balance of life for their business owners and leaders
Renée O'Brien is an EOS® Implementer, and can facilitate and implement the EOS® process in your business.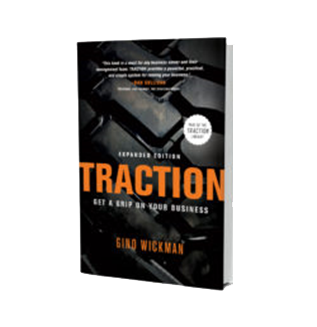 EOS®, the Entrepreneurial Operating System® was first described by Gino Wickman in his book Traction®. Inside Traction, you'll learn the secrets of strengthening the Six Key Components™ of your business. You'll discover simple yet powerful ways to run your company that will give you and your leadership team more focus, more growth, and more enjoyment.
EOS®, the Entrepreneurial Operating System® is right for you if…
➢  You feel lack of control over your time, the market, or your company. The EOS® Entrepreneurial Operating System identifies Six Key Components of any organization, so you can monitor 6 items instead the 100 you usually do.
➢ Your are frustrated and kept up at night because your people seem like they don't listen, don't understand you and they don't follow through. This program helps you define who are the right players, and what is their right seat.
➢  You are not making Profit that you think you should . Instead of running your business blind, the EOS® program facilitates you find the right metrics to give you the vision you need to find profit centers, notice trends, and eliminate profit dream crushers
➢  You don't feel like you know your numbers like you would like to. The numbers you do know are hard to collect, don't tell you very much, and are ancient history by the time you look at them. The data component of the program helps you manage a few key metrics instead of the overwhelm of personalities, stories, egos, and emotions.
➢  Your growth has stopped and you have hit a ceiling that you can't seem to break through no matter what you do. The EOS® program frees CEO's of the overwhelm and clarity is revealed about the next steps.
➢  Nothing is working. You have tried quick fixes and nothing fixes the problems of the company completely. The program is designed to get your whole company on the same page towards your company vision.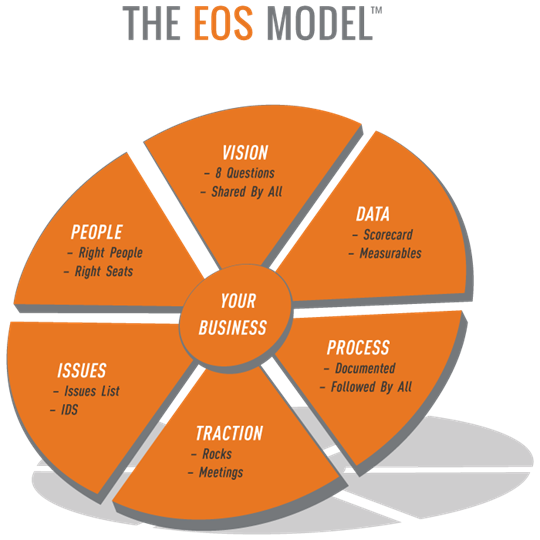 The EOS Model™ provides a visual illustration of the Six Key Components™ of any business that must be managed and strengthened to be a great business.
Vision
Developing a clear and robust vision and sharing it with all is the foundation for getting everyone on the same page in the business.
People
Getting the best players on the team, and putting them in the right seat is what makes it possible for the company to deliver its vision.
Data
The data component is about cutting through the distractions, stories and personalities to get a handful of numbers that give you a pulse of what is going on in the business, and the ability to steer it where you want it to go.
Issues
Strengthening the Issues component means sleuthing out issues at every level of the company and following a 3 step process for solving them forever.
Process
What is your secret sauce? In the process phase you take your winning formula and "systematize" your business to make sure your secret ingredients are repeated with every transaction and relationship. The overall process and each critical step shall be documented for consistent delivery, and ensuring your business is scalable without losing what is special about the company.
Traction®
This is where the rubber meets the road. Now that the foundation is set, it is time to bring on some on some discipline, accountability and follow through, and propel the business forward.
How the EOS Process™ Works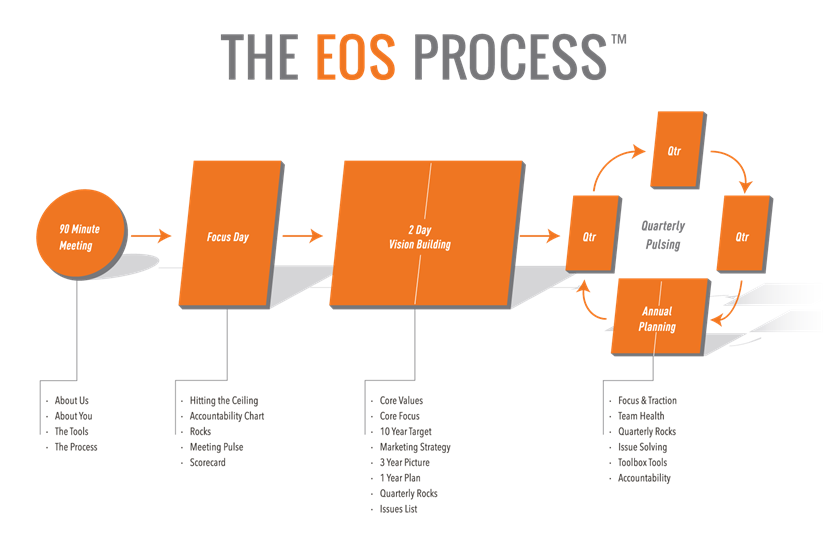 The EOS Process™ provides a proven way to put all the pieces together, incorporating each of the EOS Tools in the right order to best strengthen each key component of your business. The process is a rhythm of strategic planning meetings, each with a specific, powerful agenda to create the steering tools needed for traction in your business.
90 Minute Meeting – The process all kicks off with a FREE 90 minute meeting where we can introduce your leadership team to EOS®. We will take you through each part of the process, discuss your needs, and from there you can decide if the EOS® process is right for your company.
Focus Day™ – A day to give your leadership team tools to clarify who's responsible for what, set priorities, improve communication, resolve issues and track critical numbers. With these tools in hand you will spend about 30 days putting them into practice and seeing improvement right away.
Vision Building Day 1™ – After using the tools developed in the Focus Day™ your leadership team will gather again for a day of planning where we will introduce the components of the Vision/Traction Organizer™ (V/TO). In this meeting you will clarify your vision, determine who you are and where you are going. Defining these core values and foundations of the business are very helpful in evaluating and recruiting your people. Get familiar and utilize these tools for 30 days and then you will be ready for Vision Building Day 2™.
Vision Building Day 2™ – Now it is time to complete your full game plan for the company. Your leadership team will again meet and we nail down your marketing strategy, craft your 3-Year Picture™ and create your 1-Year plan. Also issues will be unearthed, and priorities set for assigning and completing some of them in the next 90 days.
After that you can see from the diagram there will be a cycle of one day events for quarterly and annual planning sessions. In each of these meetings the original steering documents will be utilized, reviewed and updated to keep the business on track.
What's included in Renée O'Brien's EOS® Implementation
When engaging Renée O'Brien as your EOS® Implementer your onsite EOS® sessions will be powerful, engaging, business driving sessions that guide your team through the process, and that can change your business forever. Your on-site sessions will include…
➢  Dynamic facilitation that brings clarity, alignment, and resolution
➢  Learn and practice the skills of all The Six Key Components™
➢  Access to every management tools from the EOS® Toolbox™, and learn the ins and outs of how to use each.
➢  The EOS Leadership Team Manual contains all of the worksheet pages for each session in The EOS Process™, all the EOS® tools, one copy of The EOS Process™
➢  Following the meeting a written Summary Report with a debrief of the meeting, and key next moves that decided upon.
➢  Participant handouts, take-aways and activities.
➢  Copies of Gino Wickman's book Traction for members of your leadership team.
Renée is located in Seattle, WA and typically only accepts on-site EOS® Implementation engagements in Washington, Oregon, California and British Columbia. However, if you are outside the area shoot us an email and we will see if travel can be coordinated with other speaking engagements or events.
Renée O'Brien, as EOS® Implementer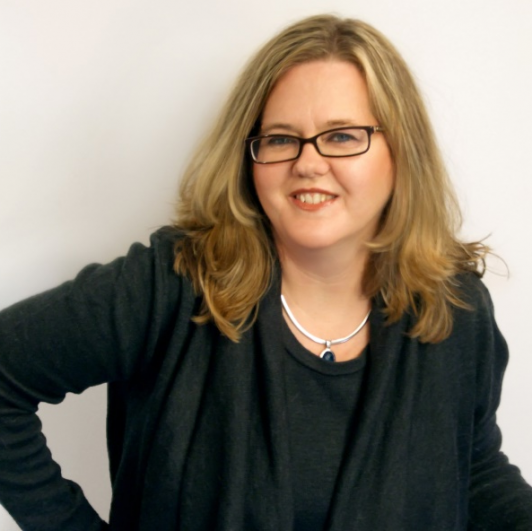 Get ready to have fun, get serious, and reap your best results! Renée O'Brien is an EOS® Implementer, consultant, coach, facilitator, speaker, writer and business owner. Renée brings more than 20+ years of consulting/business coaching experience. Having started 7 enterprises Renée knows from personal experience how to build a business from startup to absentee ownership, and even cash out with a big sale.
Renée is a passionate, energetic catalyst for forward momentum in your company. She is serious about partnering with business owners, and their leaders to help them "eat and sleep their numbers". Renée is a leadership fanatic, spreadsheet geek, devoted to operational systems, committed to empowering teams and helping entrepreneurs achieve work life balance, and truly love their business again.
In addition to Renée's roll up your sleeves, real world experience, she is a perpetual learner and a collector of state of the art skills, techniques and information. A quick snapshot of her professional education: a degree in Economics and Communications: Consumer Behavior from University of Washington, former consultant at Accenture consulting, the Five Behaviors of a Cohesive Team® Authorized Partner, numerous evidence based methodologies trained at Harvard Leadership Coaching Strategies, MBTI® Certification (Myers-Briggs personality assessments), certified Everything DiSC® (model of human behavior for personal growth), and EOS® – Entrepreneurial Operating System as and EOS® Implementer.Also, Renée earned the CSPO ®
certification in Agile, the world's most popular innovation methodology. Renée applies these rapid implementation tactics and swift response to change to help her clients implement twice as much change in half the time.
As your EOS® Implementer what you can expect from Renée's style is best described as: Productive, enthusiastic, problem solving, tenacious, high expectations for accomplishment, keenly observant, deep dive discovery, clarity, breakthroughs, idea cultivation, savvy understanding of your numbers, solid action plans of "important" goals.